Grade-A Cells
Friendly price
Fast Delivery
1-8 working days
Safety Guarantee
30-day money-back guarantee
Lifetime Consultation
One-on-one online service
🔥 Weekly Recommendation —— Great Price Ends On Dec. 11th
$164.99 $199.99
one-on-one
Lifetime Support
Highly Recommended After Professional Testing
Lithium Solar
Redodo has a great reputation for providing a quality battery at the right price, the Redodo 24V 200Ah LiFePO4 battery was built very well, over 5100Wh of power, and has GFB cells that will likely last a long time, great battery!
HOBOTECH
From the result of the the battery capacity test it scored 211 amp hours out of 200 for for a really nice 106%. With a high powered 200 amp BMS with a five year warranty and very few at this price point, it makes this a best bang for the buck!
First Class Safety
Strong BMS
IP65 Protection Class
Clean & Safe
Redodo in Real Homes, RVs, Cabins...
People like you, making us more powerful
"I have made Redodo our #1 battery distributor"
At the time, it was the only battery that promised a great warranty, high powered cells and a great price. As a business man. Price is #2 quality is #1. So I tried one of your batteries and I tested it using a variety of high intensity ways when I got it, despite this, it passed the test. After that I bought 2-200ah for a partner and he has had excellent results with them. No issues what soever.
So, I have made you our #1 battery distributor. I've used other cheaper cells and the America's #1 lithium battery and they failed. So I needed the toughest battery I could find. And after 7 batteries. Yours was the best. Thank you to Redodo!

From Redodo's customer who installs off grid battery systems for 5 years
What you get from Redodo?
Discover With More People
Jan 04, 2023 HuangAlex
Since I'm not satisfied with the capacity of lead/gel solar cells due to slow absorption, low performance when charging via PV, and I have so little energy available, have to find a better solution here asap. When I searched I stumbled across REDODO's Lithium Storage when looking for more efficient and cheaper storage.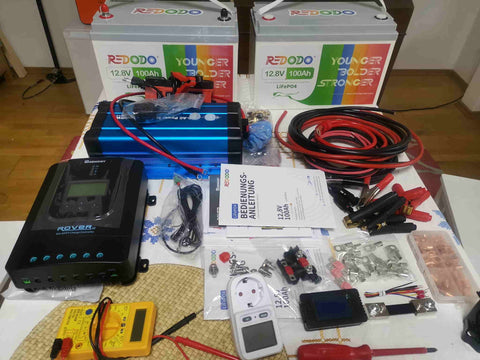 Jan 04, 2023 HuangAlex
I would like to report on the construction of a self-built solar powerstation, which proves that even a layman like me can build without prior knowledge.
Be The First To Know The New Products And Info